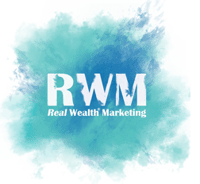 Contact Real Wealth® Marketing
info@realwealthmarketing.com
or
262-626-2590
114 Main St.
Kewaskum, WI 53040
What is Real Wealth® Marketing?
The Real Wealth® Marketing core mission is to Educate, Inspire, and Motivate Americans to make smart decisions with their money. Real Wealth® produces weekly podcasts featuring industry greats such as Tom Hegna, Van Mueller, and Curtis Cloke to encourage consumers to do business with their financial professional. Real Wealth® is built for busy advisors who want to maintain a strong personal relationship with their clients and prospects. The system leverages technology to offer a turnkey, compliant drip email and social media marketing solution. We also host Power Session LIVE webinars to educate advisors, which helps them to be the best they can be for their communities and provide better services to their clients.
Why it Works
We will help you provide to your clients a consistent and nurturing experience that builds trust and keeps you top of mind. Our advisor webinars keep you up to date on the industry with top advisors in the industry as our guests. Schedule a marketing consultation at our expense to discover if we are a good fit for your business.
Complimentary Resources Available To You
Tom Hegna Series
Tom Hegna is a Retirement Expert, Economist, Best Selling Author, Public TV host and International Speaker with a 25-year record of consistent top performance. We are starting a monthly webinar series for our Premier members with Tom and his presentation Don't Worry, Retire Happy. Join us and Tom for informative and exciting Webinars starting on June 15th! Invite your clients and colleagues as often as you'd like!
Take advantage of your NAIFA sponsored membership with Real Wealth®!
With your NAIFA membership, you get free registration to Power Session LIVE and access to our weekly podcast and promotional materials – SIGN UP NOW