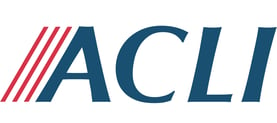 The American Council of Life Insurers
Contact Info
101 Constitution Avenue, NW
Suite 700
Washington, DC 20001-2133
Phone: 202-624-2000 (general); 877-674-4659 (website)
Email: webadmin@acli.com

American Council of Life Insurers
America's life insurance companies were born out of the idea that no family should be on its own in hard times. For as long as 175 years, life insurance companies have stayed ahead of the ever-changing needs of America's families and its economy, with products and services that provide financial security today and certainty for the future – through all stages of life.
Today, the American Council of Life Insurers (ACLI) advocates on behalf of 280 life insurance companies, 94 percent of industry assets. Based in Washington, D.C., ACLI represents member companies in state, federal and international forums and advocates for public policy that advances expanded consumer access to the industry marketplace.
90 million American families depend on ACLI member companies for
life insurance

annuities

retirement plans

long-term care insurance

short- and long-term disability income insurance

reinsurance

dental, vision and other supplemental benefits.

Small businesses rely on life insurance industry products.
In times of need, small business owners can use cash value in policies for liquidity needs.

ACLI member companies back long-term guarantees, always there when policyholders need them.
Life insurance companies pay out $2.1 billion every day.

In comparison, Social Security pays out $2.7 billion every day.

To meet these obligations, ACLI member companies invest long for the long term, making the industry one of the nation's largest sources of investment capital, with $6.7 trillion invested in the U.S. economy – including in education, housing, health systems, and agriculture. When America was recovering from the 2008 financial crisis, life insurers purchased more than 23 percent of the Build America Bonds issued by states and municipalities.
Overall, the life insurance industry generates approximately 2.7 million jobs in the United States.
Protecting Every Future
NAIFA Chapter Leadership:
You're invited to join ACLI's Protecting Every Future.
Protecting Every Future is a digital advocate network for leaders like you, and for the consumers who depend on life insurance products for financial protection and security.
Our role in the financial wellbeing of American households is more important than ever. Protecting Every Future gives all of us a way to band together, in a world that's increasingly digital, and gain strength in numbers.
Protecting Every Future is on-line and on-the-move, telling our story and the stories of those we serve. It's educating state and federal policymakers as they make decisions about consumer access to information and tools to protect themselves and their families.
Protecting Every Future captures our value proposition for lawmakers, and for everyday consumers who rely on you.
Thanks for taking a look. We hope you'll Share Your Story and invite the people you help to share theirs, too.