 Financial Security Advocate Academy
Earn Your Badge. Grow Your Relationships.
Advisors Committed to Financial Security for All
Financial Security Advocates have the training, knowledge, and skills to fully participate in the political process, exert their grassroots influence, and amplify NAIFA's advocacy message on behalf of their businesses, colleagues, clients, and communities. They truly make a difference. You, too, can be a part of something big and join the ranks of Financial Security Advocates.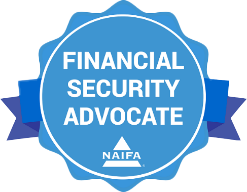 This online, self-paced course includes 6 modules:
1) Introduction to Citizen Advocacy
2) Crafting Your Message
3) Preparing for a Meeting
4) Conducting a Meeting
5) How to Build Relationships with Lawmakers
6) Advanced Citizen Advocacy Strategies
Your Time Commitment:
The entire course should take you less than two hours to complete.
Your Reward:
Once completed, NAIFA will issue you your Financial Security Advocate badge from Credly that you can put on your social media accounts and will update your consumer-facing profile on www.financialsecurity.org to show your badge. Your name will also be proudly displayed as a Financial Security Advocate to your peers and during our key signature events of Congressional Conference and National Leadership Conference.
How It Works:
Enrollment is limited and we run the Academy as a monthly class. Sign up for the month in which you are committed to completing the class. We will confirm your class and contact you should the class overfill to move you to another month. There is zero cost to you to participate.
Enroll in the Academy for 2023