 Financial Security
Advocates
"NAIFA's Advocacy Training program was phenomenal! I believe the program is a must-do for all that want to actively advocate for any cause. The courses are very informative and interactive, and I learned so much more by completing them."
Thomas Palmeri, LUTCF
Loyal NAIFA member since 1985
Who Has Earned the Financial Security Advocate Badge?
Advisors Committed to Financial Security for All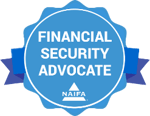 Financial Security Advocates have the training, knowledge, and skills to fully participate in the political process, exert their grassroots influence, and amplify NAIFA's advocacy message on behalf of their businesses, colleagues, clients, and communities. They truly make a difference. You, too, can be a part of something big and join the ranks of Financial Security Advocates.
Add Your Name to the List!
Thank you to NAIFA members from each state who have completed the Grassroots Training Series and earned the Financial Security Advocate badge.
Alabama
Jennifer Barnett
Samuel Fields

Shella Sylla
Gregory Turner
Matthew Wilson
Alaska
Hunter Guthrie
Lanet Spence
Arizona
Judy Aguilar-Woertz
Heather Bergman
Diana Brettrager

Robert Bryant
Patricia Chesebrough
Barry Cook

Michael Eibeck
David Ford

Toni Gonzales
Stephen Goucher

Rebecca Harper
Tracy Jones

Alan Kifer
Michael Klein

Seth Krasne
Sue Karaja
Connie McAdams

Barry McBride
Jennifer Mauer
Adam Roth
Michael Sandoval

David Sewell
Philip Solinsky
Amber Stitt
Meg Vecchi
Robert Wernecke
Kenny Ziegler
Arkansas
Shannon Baker
Chet Caldwell
Scott Dorminy
Brenda Doty

Jeremy Duvall
Robert Waddell

Howard Woodall
California
Elizabeth Angeles
Louis Brownstone
Peter Buechler

Joseph Dela Cruz Calderon
Richard Coffin
John Davidson

Jonathon Devase
Clarissa Flores
Pamela Fugitt-Hetrick
Melissa Gonzalez
Elizabeth Guemiksizian
Angelo Haddad

Robert Haskins
Harris Kagan
Stephen Kagawa
Terry Kaltenbach

Steven La Bella
Larry Lee

Sergio Lopez
Gilbert Mares

Michael Mares

Nichole Mayer
Thomas Michel

Ken Nooshi
Janice Obee Obee
Alvin Parra

Jose Rodriguez

Gerald Sheridan
Marc Sigmon
Matthew Tapping
Kent Teixeira
Michael Torres
Misty Weltzien

Colorado
Robert Avery

Kate Kilgore Cihon
Robert Grooms
Christine Jensen
Valerie Larson
Kathleen Owings

Donald Pacheco

Richard Seymour

Sarah Tinkler
Connecticut
Jerry Flowers
John Morris
Kaila Wilson

Delaware
Dennis Drake
Nancy Feldman

Kevin Lammers
Leo Strine
Donald Talerico
GWDC
Michael Gerber
Fred Griffin
Gobind Hemnani
Brock Jolly
Florida
Charlene Agin

Isaac Amaya
Kurt Anderson

Heather Azcueta
Bruce Baltich
Michael Behl
Thomas Bello
Douglas Bishop
Richard Bonchick
Paul Bouchard
Kristan Brinkley
Elizabeth Brooks

Donald Brown

Larry Bryant
Stanley Burns
Renata Carvalho
Joseph Chalom

Jeffrey Chernoff
Stevan Collins
Thomas Cothron
William Daines
Charmell Davis
Joseph DeMarco
Barbara Downs
Tiffany Drewes
Craig Duncan

Charles Edris
Alberto Espinosa

Stephen Estler

John Field
Mark Forgione
F. Todd Gicalone
Mauricio Giraldo
Ashleigh Hammad
Diana Holder
Timothy Holladay

Bryon Holz

Lawrence Holzberg

Jessica Hughes
Joseph Jamerson
Jose Jimenez
Katherine Jones

Kelli Keith
Scott Keith
Maureen Kirschhofer
Bill Knight

James Koburger
Jonathan Leftwich
Panos Leledakis
Christopher Lopez
Macy MacConnell
Maria Maranda
Corey Mathews
Kevin Mayeux
Ronald McCall
Timothy Meenan
Patricia Miller
Linda Moore

Joy Morse
Connie Mosley
Curtis Neuman
Khadein Newman
John Nichols
Christine Noel
Cherri Ohmer
Marie O'Keefe
Courtney Paat
Rick Patterson

Jacqueline Perez
Mike Peters

Eric Ponce
Jeannine Powell
Lawrence Riegner
Chayne Riggs
William Riley
Howard Rosenblatt
Robert Rosenthal
Franklin Roth
David Russell

Kenneth Russell
Steven Saladino

Teresa Seefeldt

Gary Shepard
Craig Smith
Melissa Snively

Michael Staeb
Toni Stanaland

Grace Staten
Stephen Summerlin

Peachie Thompson
Mark Tiralosi
Thomas Webb
Rod Whited
Bobby Whitley

Hilliard Wiggins
Robert Wolford
Georgia
Michael Ahenfo
Carole Cheatam
Ande Frazier
Tony Hodge
Benjamin Johnson
David Jones
William Kelly
Michael Kipniss
Shawn Maloney
Daimein Padmore-Solomon
Jennifer Perri
J. Neal Shepard
Jerry Spivey
Stephen Thaler
Donald White
Idaho
Greg Bitter
Roderick Carr

Garth Hassel
EmmaLee Robinson
Guy Stubbs
Illinois
Christine Averitt
Lisa Bickus
Kenneth Biederman
Courtney Blenner
Milton Brown
Robert Burd
Dennis Dean
Sara Decatoire
Kristine Dickson
Andrea Dodd
Randy Ems
David Frolicstein
Chris Gandy
Mary Gruenberg
Annette Hammortree
Jerry Jackson
Caleb Jump
Jeff Keicher

Brett Keyes
Jean Kong
Rachel Kridner
Rodrigo Menendez
Jeffrey Posadzy
Thomas Ripperda
Mark Rizzo
Santiago Rodriguez
Gwendolyn Shaw
Camille Tan
Dominick Vassos
Carl Zeidler
Indiana
Kevin Bontrager

Gregory Boyer

August Hardee
Richard Jeffries
Nate Lehman
Chase Lowden
Kenyata Moore
Onyeka Olieh
Gregory Scherschel
Judith Schoon
Brian Slabaugh
Daniel Stallings
Bradley Wethington
Iowa
Craig Adamson

David Beaty
Martin Berger
Rodney Berger

Emily Cabbage

Barry Delp

Howard Dobson

Brenda Eckard
Justi Folladori
Mary Fraser

Michael Gaeta

Mike Grandgeorge

Kirk Haefner
Joshua Herbst
Clint Hinderaker
Brent Hinerichsen
Kristopher Hopkins
Ann Hudson
Barry Johnson
Dane Johnston

Nicole Kestel
Dennis Kim
Randy Kruse

Robert McCarey
Amy La Grange
Roger McCullough
Sarah Muehlemann
Chris Oberbroeckling
John Raley

Jonathan Rasler
Robert Reinert
Michael Rozum
Anthony Schau

Dan Walterman
Neil Wilkinson
Kansas
Tod Nelson
Kacy Seitz
Geoff Stalker
Bill Vawter
Kentucky
Donald Bratcher

Susan Burkley
Garry Burry
Catherine Carlson
John Gates
Jeff Holland
Ronald House
John Kiebler

Lily Martin
Leonard McNairy

Charles Price
Gayle Prescott
George Ridings
John Ridoux
Daniel Santos
Whitney Wilgus
Louisiana
Robelynn Abadie
Maine
Robert Frank
Lisa Laliberte

E. Duke Marston

Alan Minthorn

Lynn Quirion
David Spellman
Maryland
Daniel Altmire
Steven Aquino
Hugh Breslin
William Brockman

Paul Dougherty
William Franklin
Michael Garrity
Carla Gibbs
Matthew Grace

Brian Haney
Scott Iodice

Brian Jolles
Vijay Khetarpal

Alan Kines
Roger Owens

Richard Stone

Melanie White-Terry
Moses Wright
Massachusetts
Joel Desilets
Craig Garofolo
Daryl Grabowski
Patrick Haraden
Benjamin Harding

John Kerr
Boris Lokshin

Rith Nou
Joshua O'Gara

Raydania Pena
Adam Sachs

Jennifer Shepley

Connell Tarr
Minnesota
Gunner Anderson
Terry Anderson
Cody Block
John Dean
Patrick Dolan
Brian Fleming
Tammy Hanson
Winona Havir
Katie Jacobson
Brian Kelly

Debra Newman
Julie Phillips
Keith Phillips
Cody Riesterer
Char Rigelman
Judy Ringler Mountain
Christopher Schneeman

Beth Snyder-Jones
Mississippi
Camille Allen Snyder
Teri Eaton

Benny Hubbard

Priscilla King

Lee Owen


Missouri
Mark Acre

Eddie Anderson

Bryan Cole
Michael Deschenes
James Graham

John Gross
Jean Harmison
Jonathan Haymes

Janet Heitzig
Jennifer Hodges
Zachary Huels
Rebecca Jennings
Dawn Johnson
Shari Kearns
Amy R. Kern

Randal Kraft
Julie Kudrna
Carl Maus

Ryan Mooneyham
Dennis Page
Mark Squires
Craig Wright
Montana
James Connole
Daniel Rust

Brian Salonen
Nebraska
Brad Brodersen

Wanda Caffrey
Heather Chacon
Dusty Cook
Michael Cooper
Todd Gaswick
Beth Goldsmith
Lisa Hatterman
Michael Herring

Bryan Holen
Doug Hoops
James Krason
Michael Nash
Tanya Patzner
Angie Pavelka
Echo Pelster
Dave Skutnik
Candace Specht
Michael Struebing

Maureen Vinton
Dustin Will
Nevada
David Bianchi
Yvonne Burke
Christopher Carothers
Yuan-Fen Lai Lai
Gary Mouden
New Hampshire
Harold Sullivan
New Jersey
Joseph Anthes
Ravi Balchand
Paul Bent
Dennis Cuccinelli
Craig Feinberg
Erin Hoffman
Daniel Irizarry

Beverlee Levy
Erin Hoffman
Rebecca Novin-Cannon
Mark Richards
Irene Stolte
Carolina Torres
Jill van Nostrand
New Mexico
Aprilyn Chavez Geissler
Edward Dunn
Gene Martinez
Michael Olguin
Hilario Rubio
Lynda Turner
Shane Westhoelter
New York
Errol Boreland
Michael Caputo
MaKenna Cooley
Vinny Dallo
Evelyn Gellar

John Hobika
Maz Kamaruddin
Zhi Lin
John Melkun
Kevin Mulqueen

David Perrotto
Gregory Smith
Nii Sowah
Joseph Templin
James Tyrpak
Michael Tyrpak
North Carolina
Elisha Aharon
Kenneth Altman
Jason Austell
Tommy Brigman
Brian Cooper
Alex Edmisten
Lora Gold
Perry Hudspeth
Marvin Johnson
Paul Johnson
Kevin Joiner

Andrew Jones
Frederick Joyner
John Mazza
Wayne Peck
Norma Jean Rector
James Sharpe
Walter Sprye
Matthew Stone
Heather Vicks
Deidra Willis
North Dakota
Kim Albert

Steven Asche
Steve Bergee
Lyle Berndt

Michael Bergquist
David Colter
Tim Deitemeyer

Elaine Fremling
Lyle Kraft

Terry Kraft

Tara Lacher
Stacy Norton

Todd Ringoen
Todd Schweitzer

Paul Siebert
Jacob Thrailkill

Steven Walker
Gregg Webster

Jessica Westgard Larson

Don Zerr
Danielle Zimbrick
Ohio
Anthony Adams
Gary Albert
John Barbish
Beverly Beery
Jeffrey Beery
Scott Blake
Duane Borcherding
Cort Bradbury
Jackson Carawan
Suzanne Carawan

Tracy Cartwright
Barbara Cottrell
Jeffrey Day
Jacob Elrod
James Gaydosh
James Geitgey

Joseph Giangola
Zachary Green
Jill Halker
Elie Harriett

Jamie Houston
Robert Johnson
William Kecskemety

Michael Lundy
Andrea Nameche
Bailee Openshaw
Robert Roach

Michael Rudolph
Sajana Shrestha
Dionicio Trevino
Donald Wiechart
Oklahoma
Jim Duncan
Brian Easlon
Mary Garza
Whitney Jessee
Richard Porter

Charles Potts
Bobby Thompson
Margaret Wilkerson
Oregon
Paul Budke

Shaun Dalton
Misty English
Kym Housley
Lisa Lettenmaier
Polly Meek
Charlene Quaresma
David Willis
Pennsylvania
David Barrist
Matthew Echelmeier

Jan Hartman

Carina Hatfield

Kyriaki Houras
Mark Knodel
William Krause
Bronwyn Martin
Trish May

Nicholas Moriello
Jay Moyer
Larry Moyer

Christopher Musuneggi
Louis Pettinato

Patricia Picardi
Christine Pikutis-Musuneggi
Daniel Reisinger
Elaine Russell
B. Douglas Trainer

John Ungerman
Paul Valerio
Michele Vitale
Marianne Yasso

Rhode Island
Thomas Case
Mark Male
Jonathan Matrullo
Gene Nadeau
South Carolina
Casey Chambers
Aubrey Fitzloff
David Grookett
Kenneth Head
Michael Head
Aby Henneberry
Doug Jolley
Tammy Kelly
Henry Leslie

David Lloyd
Misty Petrosino
Bruce Pope

Betty Roberson

Brad Tapscott

Liliana Velasquez
Stacie Wallice
Tim Williamson
South Dakota
Blaine Anderson

Andrew Bartling
Timothy Dardis
Warren Graber
Desirae Hovdestad
David Jorgenson

Douglas Leighton

Deborah Reed
Dennis Rowley

Calvin Sievers

Leland Kelsey Stoddard

Joseph Sztapka
Lonnie Tutsch
Jeff Tveit

Adam Weeman
Tennessee
Sandra Bailey
Billy Brown
Paul Cheek
Scott Flowers
Robert Hicks
Cory Jacobs
William Kelly
Pak Le
Lisa Loden
Emily Miller
Mark Miller

Norris Ming
John D. Richardson

Chase Sinquefield

Bruce Snider
Andrew Warner
Texas
Bianca Alonso Weiss
Steve Anderson

Lilia Arandela

Frederic Badyna

Glendell Baker
Jennifer Barthol
David Blanchard
Charles Booth

Lane Boozer

Kameron Caldwell
Ruben Cardenas
Alan Carl
Dee Carter

Enrique Cisneros
Debora Clark
Victoria Cooper
Thomas Currey

Christi Daughenbaugh
Richard Demko

AshlieRose Dunn
Karen Easterling
Katie Eikmeier
B. Ted Erck
Hollie Gandy
Mark Gardner
Andra Grava
Alyson Guest

Gloria Guzman

Will Ham
Stephen Harris

Kirk Haworth

Kristen Hendricks
Tobin Hoffmann
Douglas Jackson
Cheryl Jackson
Lance Kroesch
Doug Light
T. Littleton

Ruben Lozoya
Douglas Massey

Charles Matejowsky
Janella Matias
Kimberly McClure
Donna McCright
Rodney Mogen

Cynthia Mook
Brian Moore
Aaron Novak
Danny O'Connell
Joseph Orr

Damon Robert Paull
Neetu Prabhu
Chane Reagan

Timothy Roels

John Ruckel

Zachary Scardino
Raymond Soto

Marvin Spreen

Michael Steadman
Ernest Stiba
Nathan Strayhorn
Jason Talley

Edward Tate

James Thompson
Karen True

Joey Ussery

Wes Wessel
John Wheeler, Jr.

Raymond White
Allison Woods
Tallie Young
Utah
Joseph Bradley
Scott Christensen
Scott Johnson
Timothy Johnson
Dori Phillips

Dallas Price
Bart Spencer
Vermont
Nathan Muehl
P.J. Pfeifenberger
Daniel Reagan
Eryn Ryan
Clinton Wood
Virginia
Brendan Bernat
Diane Boyle


Mark Briscoe
William Counts
James Denny
Jimmy Fay
Paul Franklin
Rose Goheen
Fred Griffin
Charles Henderson
Andrew Holt
Brock Jolly


Marie Mercer
Roger Moore
Caroline Morris
Petula Moy
Steven Overly
Elizabeth Pate
Scott Pettyjohn
Cody Schoonover
Stephanie Sheridan
Donna Singleton
Charles Webb
Timothy Westerman
John Woleben
Washington
James Belford
Steve Bentler
Amanda Cantrell
Exiquio Cooper-Anderson
Monica Ewing
Leah Fritz
Reginald Hopkins
Randy Kimm
Valerie LaRoque
Hien Luong
Peggy Lusk
Timothy Maloy
Richard Miller
Kathy Northrop
Adam Rehmer
Melvin Sorensen
West Virginia
John Bell
Clinton Hoy
John Pauley
James Peterson
Wisconsin
Kristin Alfheim
Laura DeGolier
Brendon DeRouin
Todd Gerbig
William Guise
Michael Immel
David Kavanaugh
Heather Lindsley

Justin Manning
Mark Miller

Patrick Mongin
Van Mueller
Romeo Raabe
Michael Smith
Kenneth Specht
Elwood Syverson
Wyoming
Christopher Taggart