 COVID-19 Collaborative Library
The following are resources that members have shared from their companies or firms to help us all.
---
Resource for advisors to use in speaking with clients/consumers.
Now, more than ever, insurance and financial professionals are available as a resource to answer insurance and financial questions, offer guidance, give reassurance, and help you plan for the future.
Use this resource to position yourself as the expert to guide them thru these rapidly changing times.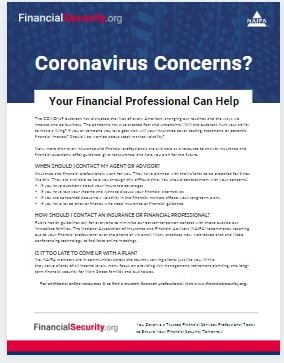 Download Printable PDF for consumers
PDF version to attach to email
---
If an employer reduces hours for part or all of their workforce in response to the COVID-19 National Emergency can the company continue to cover those employees?
For health plan products: Through May 31, 2020, UnitedHealthcare is temporarily relaxing its requirement that employees be actively working to be eligible for coverage and will allow you to cover your reduced hour employees, as long as you pay the monthly premium. Please note that you must offer this coverage on a uniform, non-discriminatory basis.
For example, we have a pediatric dental office that the state is requiring to shut down except in case of emergency. They are temporarily laying people off for the next 30 days. This allows the office to continue coverage on employees for this time without them working full time.
-Submitted by Cammie Scott, MSIE, ChHC, CLTC, LUTCF, REBC, RHU, SHRM-SCP, SPHR
President
CK Harp & Associates
Springdale, AR
---
Express Underwriting

Here is what Guardian is doing for express underwriting:
Download SML Express Underwriting

Submitted by Larry Holzberg, LUTCF, LACP
Managing Director, Advanced Sales Director
Wealth Advisory Group LLC
---